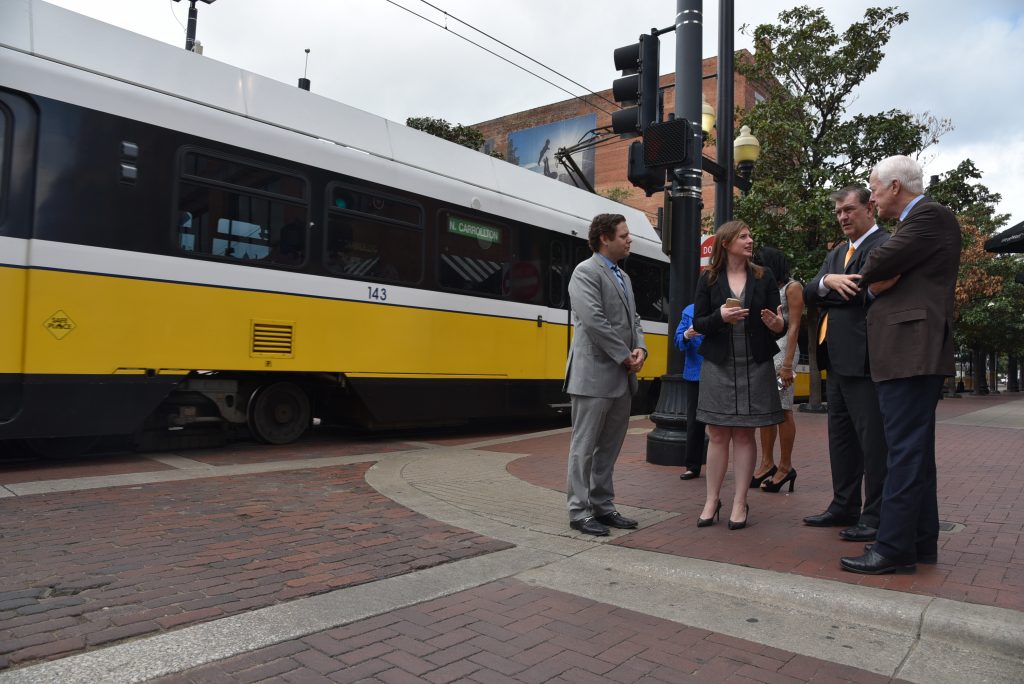 This week we had the opportunity to welcome Senator and Mrs. John Cornyn and Mayor Mike Rawlings to come down to The DEC for a visit and to take a tour of the Smart Cities Living Lab powered by AT&T.
We met at the DEC for a brief overview of the different programs we are running, including the DEC and our nine affiliate locations, The Dallas Innovation Alliance, and the Dallas Innovation District.
Senator Cornyn and his wife, Sandy, were keenly interested in how entrepreneurs are being served in Dallas and how cities are working to become "smarter" to create the best possible place for their citizens to live, work, and play.
Senator Cornyn took the chance to tour The DEC and speak with some of our succeeding entrepreneurs. We had great chat with the founder of RevTech Accelerator, David Matthews , and a few of his teams.
We then made our way out into the Dallas Innovation District to check out some of the great features of our newly launched Smart Cities Living Lab. Check out the selfie Senator Cornyn took at our kiosk with Mayor Rawlings! We showed them some of the projects we have already launched in the Smart Cities Living Lab including the kiosk and the two different smart lighting installments through our partners GE and Phillips. Senator Cornyn was encouraged by the work that has already begun and he is anxious to come back as we roll out even more phases of the Smart Cities strategies throughout the city.
We finished our tour with a great picture (including Jennifer Sanders, Executive Director of The Dallas Innovation Alliance, Mayor Rawlings, and Trey Bowles, CEO of The Dallas Entrepreneur Center and Cofounder of the Dallas Innovation Alliance) in front of the B & G from the Big Things Happen Here campaign launched by Visit Dallas.
It is always encouraging when our elected officials make it a priority to come out and support entrepreneurship and innovation. More and more people every day are seeing why Dallas is a leader in entrepreneurship and innovation throughout the world.