I had the distinct pleasure of judging the Youth Entrepreneur Contest at MegaFest this past weekend. In typical fashion, I was prepared for the standard process of entrepreneurs pitching their ideas and looking for the grand prize. We had two different groups of students that we got to hear from this morning. 5 entrepreneurs from 6th-9th grade and then another 5 from 10th-12th grade. There were some very interesting ideas from Jayden who lives in Tyler and has created his own organic Barbecue Sauce (fortunately I was able to purchase his only bottle right off of him from the stage) and young lady who has created her own hair care solution that can be made from items you would find in a shopping cart. Then there was Omnri Reown who has created a device called Uaccountable which would be put on the driver's side window a help increase safety during routine police stops of cars.
Each of the students had the opportunity to give a 3-minute pitch and many of them used visual props and even handed out their products to the judges so we could get a tangible understanding of what they were selling. I can assure you many of these students had been binge watching Shark Tank so they knew that giving out props would hopefully help their cause.
There was an esteemed panel of judges including:
I was blown away by the professionalism, passion, and thoughtfulness of each candidate and I appreciated the creativity of each contestant. Some of my favorite parts of the contest included Jay'den who showed us "Cowboy J's" homemade organic barbecue sauce.
Thanks to Brett Butler and his team from PlainsCapitalBank, we were able to give out many prizes including two grand prize checks in the amount of $15,000 each. For the 6th-9th grade group I was thrilled to see that our very own DEC member Monica Orzoco was selected as the winner. With her non-profit idea of given books away to kids who have never owned a book and with so far more than 15,000 books given away, Monica wooed the judges with her amazing presentation skills (courtesy of mentorship help from DEC Ambassador Kim O'Neil) and strong impact that she has already had through her business. In the 10th-12th Grade group, Omnri Reown won with his Uaccountable device which would increase the relationship between the police and routine traffic stops. The judges were blown away by the vision and thoughtfulness of a young man who realized a major issue facing our country but addressed it in a way that wanted to honor both sides of the issue and do so in a way with integrity and honor.
We gave away a few other awards for Judges Favorite which included Cowboy J's Barbecue Sauce, Bare Hair, and a Safety Charm and app that will allow you to track the location of your child.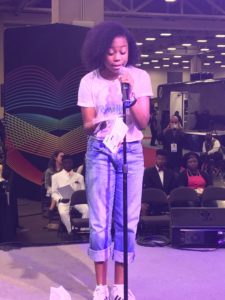 At The Dallas Entrepreneur Center, we believe all entrepreneurs deserve the right to be supported and given necessary tools and resources to help their ideas grow and becoming actual businesses. We work with youth entrepreneurs throughout the region to help them explore entrepreneurship as a career choice and to provide the road map for young entrepreneurs to build their ideas
It was an amazing event that highlighted the creativity, courage and entrepreneurial spirit of young people attending the Megafest conference. I look forward to much more from these young entrepreneurs in the future.