☐ Are you an entrepreneur looking to get plugged in to the North Texas community?

☐ Do you want to connect with other entrepreneurs in the region?

☐ Do you want to be the first to know about The DEC Network events and programs?

☐ Do you want exclusive access to The DEC Network events, including early access to events at Dallas Startup Week?

☐ Do you simply want to tell people that you're a member of The DEC Network?

If you checked one or more of the boxes above, join our new Community Membership today!

This completely free membership allows entrepreneurs to connect and network with other entrepreneurs, be the first to learn about events and programs at The DEC Network, gain exclusive access to happy hours and early access to other events, get access to perks and goodies, and more. Find a full list of perks and join below!

For questions about our Community Membership, please email memberships@thedec.co.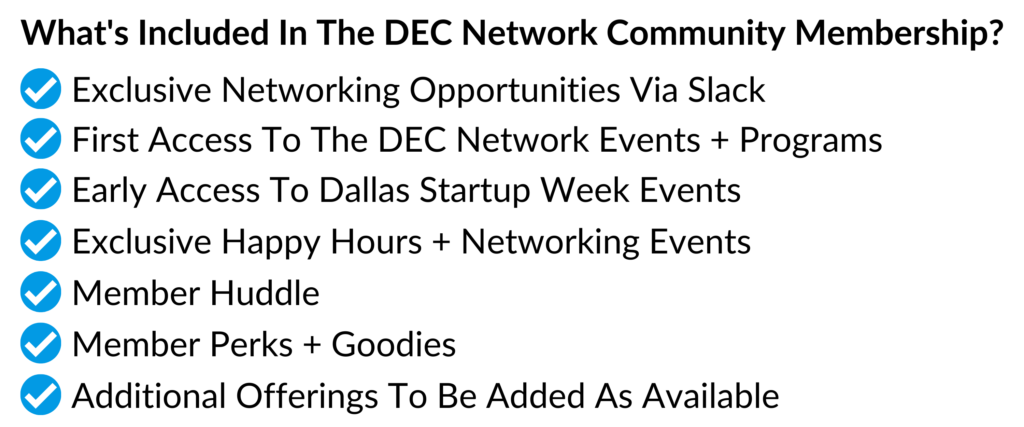 VIRTUAL
THREE TIMES PER MONTH + RESOURCES
CO-WORKING
PERFECT FOR ENTREPRENEURS ON THE GO
DEDICATED
24/7 ACCESS TO THE ENTIRE DEC NETWORK

STARTING AT $125 PER MONTH
OFFICE
FULL-TIME ENTREPRENEURS + BENEFITS

STARTING AT $300 PER MONTH