December 15, 2021 6:30 pm / 9:30 pm
Not-So-Silent Night Holiday Mixer!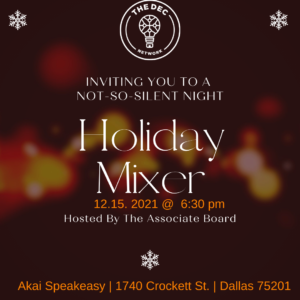 This event will be on December 15 at 6:30 p.m. CST. Hosted by The DEC's Associate board, tickets will be $10. Come celebrate with us at Akai Speakeasy located at 1740 Crockett St.
This holiday networking mixer will include giveaways, a photo booth, complimentary appetizers, and complimentary drinks provided by Proximo.
Each ticket purchased will support The DEC network as a nonprofit organization.